TJ's Perfectly-Grilled Fish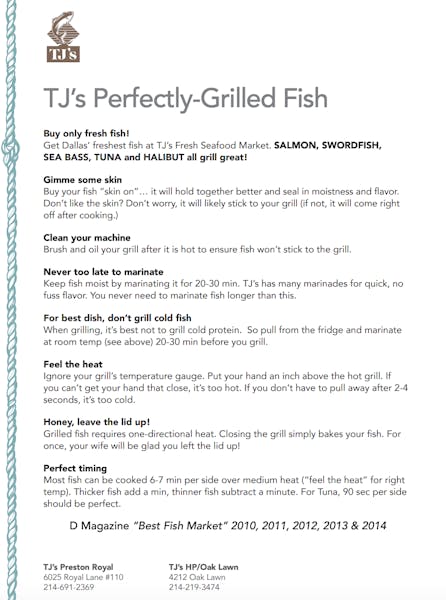 Buy only fresh fish!
Get Dallas' freshest fish at TJ's Fresh Seafood Market. SALMON, SWORDFISH, SEA BASS, TUNA and HALIBUT all grill great!
Gimme some skin Buy your fish "skin on"… it will hold together better and seal in moistness and flavor. Don't like the skin? Don't worry, it will likely stick to your grill (if not, it will come right off after cooking.)
Clean your machine
Brush and oil your grill after it is hot to ensure fish won't stick to the grill.
Never too late to marinate
Keep fish moist by marinating it for 20-30 min. TJ's has many marinades for quick, no fuss flavor. You never need to marinate fish longer than this.
For best dish, don't grill cold fish
When grilling, it's best not to grill cold protein. So pull from the fridge and marinate at room temp (see above) 20-30 min before you grill.
Feel the heat
Ignore your grill's temperature gauge. Put your hand an inch above the hot grill. If you can't get your hand that close, it's too hot. If you don't have to pull away after 2-4 seconds, it's too cold.
Honey, leave the lid up!
Grilled fish requires one-directional heat. Closing the grill simply bakes your fish. For once, your wife will be glad you left the lid up!
Perfect timing
Most fish can be cooked 6-7 min per side over medium heat ("feel the heat" for right temp). Thicker fish add a min, thinner fish subtract a minute. For Tuna, 90 sec per side should be perfect.